Using the Materials and Website
The module activities can be used individually, grouped by section, or completed as a unit.
Related activities that will help introduce or build on concepts are suggested in each Activity Overview.  View a list of subjects and the activities that address them.
This website offers links to download the entire module or each activity individually.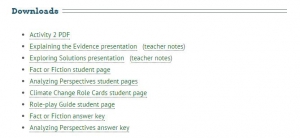 Each activity webpage provides links to download student pages, adaptable slide presentations, answer keys, and more.
On those pages, you'll also find interactive Teacher Tools to help you prepare to lead the activity.
–          Narrated tours of each activity introduce the topic, activity procedures, materials you'll need, and tips for success.
–          Take a short quiz to check your knowledge of the content covered in the activity to discover in what areas you're already an expert and where you may need additional information. Explore More videos provide additional background information on the activity topic.