Module Overview
The fourteen activities are organized by themes into five sections.
Each section contains:
an overview to provide background information,
a list of concepts that students may mistakenly hold which could generate confusion as educators use these activities,
an activity that introduces basic concepts, and
subsequent activities extend and apply those concepts.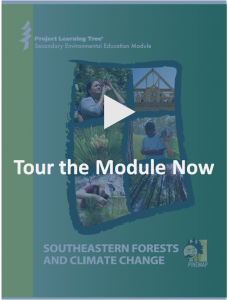 | | |
| --- | --- |
|  Section 1: Climate Change and Forests | Introduces climate change, perceptions of climate change, climate science, and the use of climate models. |
|  Section 2: Forest Management and Adaptation | Focuses on strategies that scientists and forest landowners are using to understand and enhance forest productivity in an uncertain climate. |
|  Section 3: Carbon Sequestration | Introduces carbon sequestration as one tool forest managers can use to mitigate climate change. |
|  Section 4: Life Cycle Assessment | Explores product life cycle assessments to help students consider how consumer choices influence atmospheric carbon dioxide. |
|  Section 5: Solutions for Change | Summarizes the themes of the module and connects ideas about carbon sequestration from Section 3 to life cycle assessment from Section 4. |
The activities are designed to increase students' knowledge, systems thinking and decision-making skills, and confidence that individual and community actions can help address climate change. The activities use a a variety of engaging teaching methods.
Role-play
WebQuest
Data analysis
Videos and slide presentations
Cooperative learning exercises
Field work
Service-learning action project
Small group discussions
Debate
In each activity in the module, you will find what you need to lead it successfully with your class.
Background information
Step-by-step instructions
Activity overview listing materials needed, timeframe, objectives, and more
Systems thinking connections and  supplemental enrichment exercises
Assessment ideas
Student pages, presentations, and answer keys
On this website, you can download the whole module at once or one activity at a time from the activity webpages. Learn more about this at Using the Materials and the Website.
This module includes information and supplemental exercises to help instructors interested in encouraging students to apply systems thinking to the activities.
In each activity, a Systems Thinking Connection box and systems reflection questions help instructors emphasize and reinforce systems concepts. In addition, Activities 1, 2, 3, 5, and 10 include descriptions of Systems Enrichment Exercises that are available on the module website. These supplemental exercises provide opportunities to explore systems thinking tools and concepts in more depth.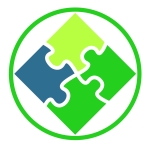 Look for this icon to easily recognize the systems thinking components.